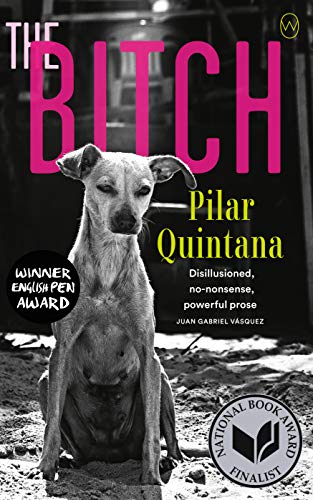 I was excited about reading The Bitch by Pilar Quintana, translated by Lisa Dillman. So many people had told me about it.
It begins with the story of a dead mother dog, a bitch poisoned and buried in the sand whose puppies will likely not survive without her. Damaris takes one of these puppies for herself and slowly over the weeks other puppies, given to different homes, die off. Damaris' puppy stays alive.
The Bitch is one of those books that isn't about a thriller-like plot, but instead sharply focuses on the pressures that weigh on Damaris like the oppressive heat of summer. Orphaned, the child who was playing with the local rich boy when he drowned at sea, barren and desperately unhappy, Damaris forges on, trying her best to care for those around her and her puppy who is like the child she never had. But is a mother's love unconditional, or enough to calm wayward children? What can true love give another? Is there ever enough to assuage the relentless onslaught of living?
As I was reading, I felt a little disappointment given how much praise had been given to the novel, but as it lingers in my mind I appreciate it more and more. The novel leaves a taste in the mouth, a bitter tang of iron and sweat that makes me suck at my cheeks and long for a glass of water. It's a feeling of being in a small, hot room, unable to escape. It's excellent.
I'll be reviewing All That's Left Unsaid by Tracey Lieu next.