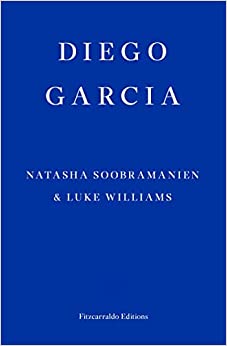 I loved this book, just loved it.
How do you write about a people whose heritage is not your own when their issues are so pressing and require further dissemination and discussion? How do you relate across the barriers of race and privilege? These are some of the issues that Natasha Soobramanien and Luke Williams grapple with as they explore the history of the island of Diego Garcia, part of the Chagos Islands, and its people, the Chagossians, who were forced from their home by the British in 1973.
It's a collaborative work that investigates how literature can interrogate history and political crime and it works especially well in this context in which the British and the Americans collaborated in an acknowledged fiction of denial that any people ever lived on Chagos so that their plans for military advantage in the Indian Ocean could be implemented.
This is the issue that Damaris and Oliver Pablo, two writer friends in Edinburgh in 2014, become obsessed with after meeting a poet called Diego, named after the lost island of his people. Oliver has just lost his brother to suicide. The story of Oliver and Damaris' sadness touches, empathises with Deigo's sadness, or sagren, the Chagos word for a sadness so deep it leads to death.
There are simply so many ideas and forms of writing in this novel that are exciting to read. There is the idea of 'fictive criticism' that Damaris comes up with, or the idea that Oliver's refusal to write is a kind of refusal of whiteness, the idea that their writing is a kind of anti-literature, that seeking new forms is the most urgent kind of non essential work that anyone can do, that solidarity requires writing outside of the self, that any form of radical writing requires 'writing with failure' (quotation from poet, Saradha Soobrayen).
This is a novel that shines with the multi-faceted brilliance of the blood diamond: it is beautiful and filled with sacrifice, daring and horror. The ghosts of the Chagossians, haunt the light of the diamond facets, crying out for justice that is yet to be theirs.
I'll be going back and back to this book. It is inspirational.
I'll be reviewing We That Are Young by Preti Taneja next.