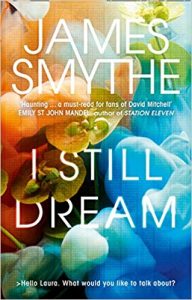 Based around the race to create artificial intelligence, mostly begun as computers built to win games, I Still Dream is a fascinating exploration of what it means to be conscious and of the importance of teaching morality.
Laura Bow uses a slow dial up internet connection to create a computer programme in her spare time. Having lost her father at a young age, she creates a programme that will listen, store information, learn how to ask and look after her well-being.
Her father was also a programmer, creating something that learnt how to manage accounting systems and filter knowledge. Laura goes on to work at the company he helped to start and her programme ends up going head to head with her father's in more ways than one.
To say more about the plot would undoubtedly spoil the novel, but there are some fun 80s music references – her programme is called Organon from the Kate Bush Cloudbusting song – and the story is sufficiently driven by Laura's life to allow the debate about what AI is and what it could or should be, a thematically relevant, but not always dominant, subject. Continue reading I Still Dream by James Smythe