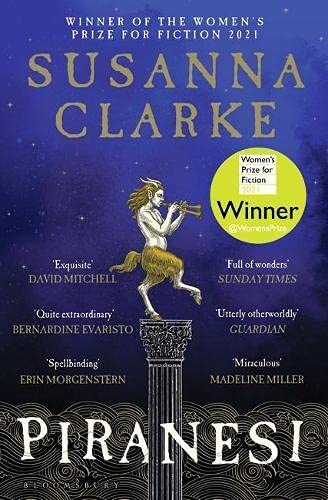 Winner of the Women's Prize for Fiction 2021, there is no need for me to praise this book. Plenty of people have already written about it and said how much they enjoyed it. For me, it is the invention of this novel that marks it out. It has a calm and rather antiquated feel. The voice of the narrator, writing his careful journal entries, is eloquent and precise. He describes his days with measured detail.
We begin with him in the House, the endless labyrinth of rooms and halls filled with expressive statues that rise up on all sides. These rooms and halls shift with the flow of the tides whose seas ebb and flow throughout the House.
There is only one other living person in the halls – the Other, who calls our narrator Piranesi. There are, however, infinite numbers of fish and birds and plant life. Piranesi mostly lives off seaweed and dries in for use a fuel.
Then the Other tells him someone is coming – an enemy that Piranesi must hide from for fear of being sent mad. From that point on everything changes…
Piranesi is a beautiful exploration of the human spirit and its way of meeting circumstance with either hope and invention or anger and frustration. Observation brings knowledge but it can also breed either hope or despair depending upon one's personality.
The halls and statues grow coral when they've been flooded, or provide shelter and fresh drinking water from the rain. Sometimes walls collapse or become hidden in the shrouds of low-hanging clouds. It's an intriguing world within which our own finds a silent mirror. The fabric of our reality feels porous, shimmers with the probability of other parallel worlds only a thought away. It's hard not to be mesmerised by this vision.
If this sounds like your sort of thing, don't hesitate. A British Borges opens its covers for you to enter into its many paths.
I'll be reviewing Peaces by Helen Oyeyemi next.