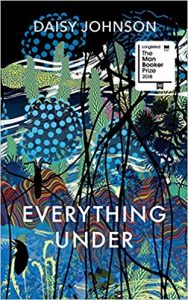 Everything Under is a beautiful book. Sentences twist and burble with an elegance that nonetheless feels etched in stone. That old stories can turn so neatly within a modern world brings a sense of connection to myth, to the land, to the fallibility of supposed progress.
Gretel is a lexicographer, updating dictionary entries. A call from a morgue tugs at her forgotten past and sets her on a quest to find her mother and uncover what happened all those seasons ago.
They lived on the river once and shared a language of words forged to suit only themselves. They spoke of what frightened them as the Bonak.
As Gretel wanders closer and closer to the land of her childhood, she finds another missing person whose story is curled tightly within her own. Continue reading →