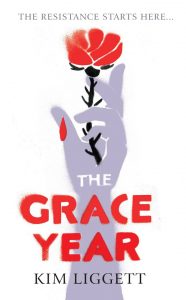 I raced through The Grace Year. Think of all the speculative fiction you've read about how men control women, particularly in religious communities – Vox, The Handmaid's Tale, The Farm, The Power – and you'll understand where The Grace Year is coming from, though it feels a bit like The Hunger Games has had an influence too. If you like this kind of book, you won't be able to resist The Grace Year.
Tierney is approaching her sixteenth year and is therefore next in her family to be sent away for her grace year. Her community believes that a girl on the cusp of womanhood is filled with magic, the evil witchcraft used by Eve to deceive Adam and curse the human race, and must be banished for a year to release their wayward, dangerous powers into the wilderness before they return. 
Girls return from their grace year with scars, missing digits, ripped out plaits (all women plait their hair and wear ribbons whose colour is symbolic of their status), or sometimes don't return at all. Poachers kill girls who stray outside of the confines of the path or their designated living area and are cut into pieces and sold for their magical powers. Some girls simply disappear but as no one is allowed to speak of the grace year, no one knows why or how.
But before they can go, these girls in their sixteenth year must go through the veiling ritual. Which of these girls will be chosen for marriage? There are only a small number of men in need of a wife, the other girls will be given different roles in the community, but the wives are the lucky, valued ones.
Tierney is an unusual girl, clever and a little wild, who finds the idea of being a wife distasteful. She also dreams – something the community considers to be evil, suggestive of magic unsuccessfully purged and punishable even by death – of a young woman with a particular flower who promises a different future for the women of the community. This is how Tierney's story begins and it's enthralling. 
I'm not going to say more about the plot because that would spoil it. It's full of twists and interesting turns that reflect on Tierney's society and our own. I will admit to wishing there wasn't so much of a romance during one part of the novel, but perhaps that speaks to my desire for the unsentimental as I'm sure this will be very appealing to some and it does become an integral part of the developing narrative.
Regardless of this little wish of mine, I really enjoyed seeing how women are always ready to rise up in resistance. It would be hard not to enjoy this novel and if it doesn't get adapted into a television series I will be sorely disappointed.
I'll be reading Water Shall Refuse Them by Lucie McKnight Hardy next.