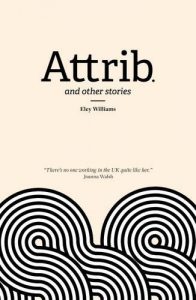 As the title suggests, Attrib. and other stories is a collection of works that delights in examining and redefining the often surprising characteristics of people and things, particularly in terms of their etymology. Many of the stories echo with birdsong, and many burn with the intensity of emotions associated with falling in and out of love. They reexamine the periphery of events, so that saying goodbye to a loved one is set against the simultaneous loss of a man's toupé caught up by the wind and blown into someone else's face ('Platform'), or the view of another goodbye scene is reimagined through the witness of a spider in the corner of the room ('Spins').
Perversely, because this story is not typical of the collection given that it isn't in first person and doesn't overtly play with words, my favourite story of book is 'Spines'. It's about a family who discover a hedgehog in the pool of their French holiday home. Their life is lived around the creature's struggle to survive.
This eye for detail within our mostly patterned and constrained lives is something that lends itself well to the short story form and Eley Williams has a particularly particular eye. The washed up whale on the beach of 'Bulk' recreates a group scene of shock and wonder. 'Mischief' introduces us to the world of rats trained to detect mines. 'Attrib.' explores the life of someone who recreates authentic sounds for media in inauthentic ways.
Because short stories have this ability to push you into the heart of a feeling or an event, into a thought process, or a reaction and then rush you back out again, it isn't always easy to know how effective a story has been until pieces return to you days later. You find yourself picturing the size of a whale's heart, curling up on it for a good night's sleep. You walk down the street, a little out of breath because you are late, and wonder how it felt to be that hedgehog swimming around a pool all day long unable to crawl out.
I say this because some of the stories in the collection did not immediately grab me. This may have been the often recurrent subject matter of romantic love or it may have been a wariness for literary word play – somehow so English – and the desire for a story to speak on many levels. Whatever the reason, I feel I can't review this book honestly until more time has passed. These are my initial impressions. I can be certain that if you like short stories you will want to read this collection, just to see. You will undoubtedly find at least one story that speaks to, and stays with you.
Next week I'm reading another short story collection, I am the brother of XX by Fleur Jaeggy, translated by Gini Alhadeff.