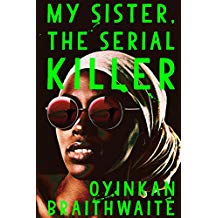 Korede's younger sister is very beautiful. Her charms enslave people, even Korede. Such a sweet innocent face could surely never wield her father's antique knife? One might believe it of ungainly, sensible Korede, but Ayoola? Surely not. She is too small, too delicate, too sweet.
As Korede marks off man number three in her notebook, she recognises that her sister, by definition, is now a serial killer. But what do we do to keep those we love from harm? What are we prepared to sacrifice to keep them from a life of imprisonment?
Korede's family ties are stretched to the limit when Ayoola meets the Doctor Korede has already fallen in love with, and reveals him to be as shallow as all the other men chasing after the woman Ayoola seems to be on the surface.
Though Korede can confide in one man, Muhtar, a man in a coma and on the brink of death, she has no one else to talk to, not even her mother. She bears the brunt of her sister's psychopathology alone.
As a nurse, Korede has an excellent knowledge of how to clean blood. She is good at keeping secrets. Aside from her sister's murders, there is another family secret that may just be the route of Ayoola's behaviour. The knife came from their deceased father. In the unfolding of the story of Ayoola's murders we learn more of their father, how he behaved and how he might have died.
I really enjoyed this novel. Set in Lagos, Nigeria, My Sister, the Serial Killer is a thriller you can read in one sitting, delighting in the short chapters, the precise, clean prose, and the painful divisions of loyalties. Beating with a feminist heart, the novel explores the fickle nature of human desire and the strength of love born of responsibility. How mutable is morality when faced with the need to protect our loved ones? It's a great read and leaves me keen to read whatever Oyinkan Braithwaite writes next. Though it's not out until January 2019, it's worth putting on your wishlist now.
I'll be reading The Dreamers by Karen Thompson Walker next.