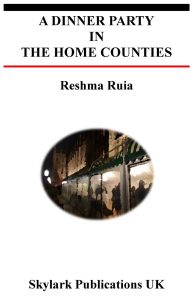 Reshma Ruia's poems often tell stories of significant moments, shine light on the little things that prize open people's sense of security or identity: the exhaustion of family life ('The Beginning'); the lazy, seemingly good-natured stereotyping of people with different heritages (the title poem); how a failure in pronunciation, or effort, to say an unusual name creates a whole new person severed from their old self ('In Which Mrs XU Becomes a Sally'); memories of partition ('1947'); deportation ('Mrs Basu Leaves Town') and so it goes on. Here are people contemplating or sitting at critical moments in their lives, who often struggle to definitively claim one geographic identity. In some ways this exploration of race and cultural confusion is at the heart of Reshma Ruia's work, but there are other themes of identity at play. What it means to be on a journey to becoming a mother ('Egg'), or the complexities of the maternal relationship ('Biography') where a child must 
Hold on tight my love, she says.

A gentle nudge is all it'll take.

Away we'll go, spilling and spluttering,

desires and dreams drip-dripping fast

through tightly shut fists.
But then the mother throws them in the air herself and folds her arms as she watches her child fall.  Continue reading →