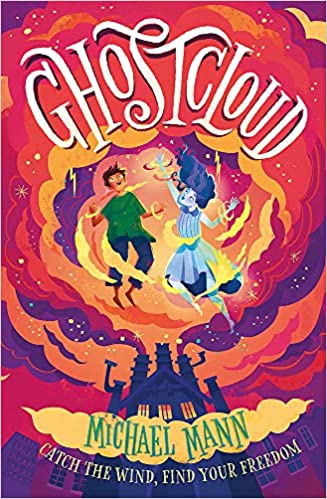 Twelve-year-old Luke has been kidnapped and taken to Battersea Powerstation, forced to shovel coal and hidden from the outside world of a reimagined smog-filled London. With his friend, Ravi, he is desperately trying to earn an amber ticket, a way out of the station and back to his family. Then a new girl, Jess, turns up on their line and threatens to ruin everything.
But that's not all…
Punished for trying to help Jess, Luke and Jess are sent to clean the sewage from a room full of pipes. Somewhere inside one of these pipes is a voice, calling to Luke. That voice is Alma and she is a ghostcloud.
What is a ghostcloud? How did Luke hear her? Will they ever escape?
I won't offer any more plot giveaways. The novel is a fun and pacy read that is focussed around the positives of being half one thing and half another. Luke's mother was Indian and his father English. He can hear and see ghostclouds because he is half of one himself, having witnessed his mother's death when she died giving birth to him. This is at the heart of the book.
At one point Alma says to him: "'I guess the moral of the story is: listen to the half-ghost.' She tapped her head. 'You've got double the halves, so double the ideas.'" (p293)
Filled with tension and with a possible sequel left dangling at the end, Ghostcloud is a great debut for 9-12 year-olds.
I'll be talking with Michael Mann about the book at City, University of London's showcase for its creative writing short courses, City Writes on Wednesday 30th March 2022 at 7pm on Zoom. Michael will be reading alongside six students or alumni of City's short courses. Register to join us here.
I'll be reviewing The Left Hand of Darkness by Ursula K. Le Guin next.