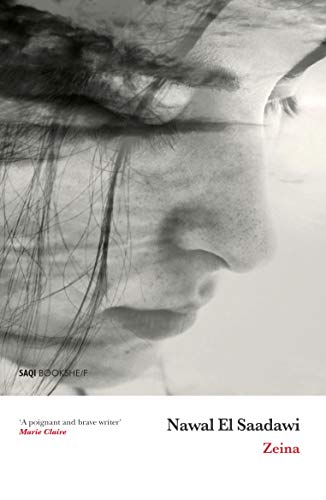 I'd not read any Nawal El Saadawi before this novel and I was blown away.
Zeina is the illegitimate child of lauded literary critic, Bodour. Bodour became pregnant after falling in love with a revolutionary killed for his beliefs. She abandons their child to the streets and later marries a journalist who uses her social connections for his own gain.
Bodour has another daughter from her marriage, Mageeda, who loves ends up going to school with Zeina briefly. Zeina is laughed at for her background but their music teacher loves her and praises her slender fingers and her natural talent for music. Even after Zeina is expelled, the music teacher continues to teach her.
Eventually, Zeina becomes a famous singer and musician who praises mothers and accepts street children into her band. A woman who wears no make-up or dramatic outfits or jewellery to perform, but who uplifts all who hear her, even great religious men.
The story is far more complex that this. We range across the thoughts and stories of multiple characters and slip backwards and forwards through time. Characters are mirrored, experiences are repeated – sadly many of them related to rape and sexual assault – descriptions flow like refrains.
Though the novel is named after Zeina, at its heart is Bodour, the literary critic who really wants to be a novelist. She wanted to marry her revolutionary and is wracked with guilt over abandoning her child. She pours all she has into a novel that she writes late at night and tries to hide in which she invents characters based on herself and her lover. Her invented self takes on a life of her own and Bodour struggles to distinguish between fact and fiction, God and the Devil.
Amidst all of this is Bodour's divorced friend, Bodour's psychiatrist who everyone seems to visit, and Bodour's cousin the Emir whose desires challenge his faith. All this and I've only revealed a tiny portion of the novel's plot.
Zeina is such a rich novel. All those preoccupations that turn over and again in our minds find themselves falling in and over each other until we can't be sure of the facts, but we are certain of our emotions and we do see how real both conscious and subconscious concerns can feel.
Of course, within this is the political theme that constantly questions the relationships between belief, status, power and security. What does it mean to be free? Who holds the keys to unleashing individual freedom?
I suspect I've missed hundreds of references and nuances contained within Zeina. Regardless, it is a startling novel that seeks to set women free from religious, state, cultural and artistic constraint that wonders, when staring at the empty, hanging pyjamas of an unfaithful husband, quite how such a 'small piece of flesh had such devastating power and importance' (p. 230).
I can't wait to read more of her work. I'll be reviewing Twelve Days in Persia by Vita Sackville-West next.