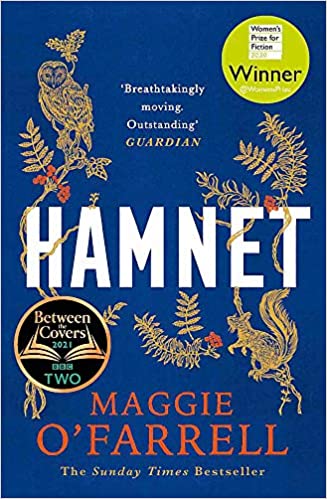 Hamnet is the story of Shakespeare's home life or, at least, some of it. From the beginning we know we are getting the story of the death of his son, Hamnet. We know that Hamnet, back in those times, was synonymous with the name Hamlet. We know what is coming, and yet, we are drawn in and we suffer when we finally get there.
Against the timeline of his death, which we follow from the moment his twin sister gets sick, is the story of William's discovery of his love for his wife, Agnes. She is the strange woman of the town. The woman whose mother wandered in from the forest and bewitched a farmer. A mother who died in childbirth and left Agnes with her brother Bartholomew, but not before she taught Agnes how to harness the healing secrets of the wild. Agnes also knows how to read the future, how to see ghosts, how to feel the core of a person through gripping the flesh between their thumb and forefinger.
Agnes is older than William. She is barely literate. She keeps a hawk in the family apple store.
William is a disappointment to his bullish father. Too effeminate. Good only for books. Not someone he would give charge of his glove-making business. His affair with Agnes serves as a commercial transaction, putting right unwholesome dealings from the past.
What will happen to William and Agnes as William steps out into the world of London? What will happen after Hamnet dies? What does it mean when news comes to Agnes that William has written a play named Hamlet?
I can see why this book has been so acclaimed. It is exceedingly well crafted. It picked me up and moved me in precise and calculated ways. It immersed me in the times and the hopes and dreams of its characters. But I can't quite say that I ever felt swept away. It shimmers in the way the Wolf Hall trilogy does, but it doesn't ever quite feel so relevant to our moment in time. Perhaps I was asking too much of it.
Hamnet is a very well written book, a work of time travel, that imagines the people behind Shakespeare and his work. Fascinating and moving, it would be hard not to enjoy it.
I'll be reading The Mermaid of Black Conch by Monique Roffey next.