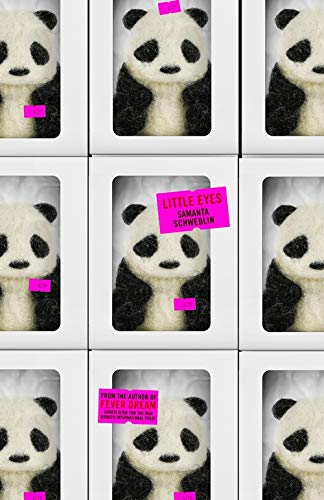 I'm a huge fan of Schweblin's debut novel, Fever Dream and so was eagerly awaiting the paperback of this novel, named by the Guardian and The Times as the Best Novel of 2020. I knew it would be very different but I was ready to be taken somewhere new by the author.
What I got wasn't anything I was expecting and yet it took me in a direction I wasn't surprised to find myself in. An exploration of what connects us, of what it means to be human, is something that Fever Dream shares with Little Eyes. You can feel the same mind moving behind it.
Kentukis are small robotic creatures controlled by an inhabitant using an App. The owner buys the kentuki – it could be a panda, an owl, a rabbit, a dragon, a mole etc. – and waits for someone to inhabit it. The kentuki then moves about in their lives, following them, able to make small sounds and capable of communication only if the owner sets up an agreed system e.g. move back for no, forwards for yes, or puts an alphabet on the floor or gives them their email or telephone number.
The novel follows a series of different owners and inhabitants, observing how their relationships develop, how they affect the other relationships in their lives. Can you limit the freedoms of the kentuki? Should you? What are the responsibilities of ownership and inhabitation?
I'm not going to spell out the plot, but the idea that any of us have full control of our lives or fully understand the boundaries of our normal relationships, regardless of those in person or online, is explored and pushed to breaking point. It's riveting, compelling and beautifully examines the moral, social and political weight of the mundane, everyday. Samanta Schweblin has done it again. Do any of us pay enough attention to what goes on around us?
Those of you who follow the blog will be aware that I've been very slow to post reviews lately. I said I'd be reviewing Second Place by Rachel Cusk next but I forgot I hadn't blogged about this book and The Cost of Living by Deborah Levy, which I will review next. I've read lots but not done a good job of posting my reviews. I'll try and catch up this week! I've also decided to try and add a new short review to the caption under the image of the book. Should be fun.