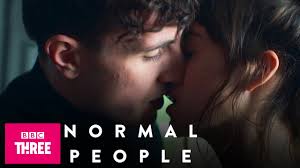 I came to this novel late. Everyone talked about loving it. I wasn't drawn to the idea of reading a popular novel about love – not sure what that says about me.
Of course, once I'd opened the pages of this novel set in Dublin and County Sligo, I was there exactly for that intense, early adult exploration of identity through relationships, in this case, one relationship, that between Connell and Marianne.
Connell comes from a single-parent, working class family and, though shy, is popular in school. Marianne, also in a single-parent family, comes from a wealthy, but dysfunctional home. Unashamed to hide her intelligence, unafraid to stand out from the crowd, she is not at all popular in school. Given that Connell's mum works as a cleaner in Marianne's house, the two teenagers meet outside of school and form an attachment.
To say too much more, would spoil the ongoing plot. Needless to say their inability to navigate the complexities of each others lives leads to a series of misinterpretations and painful slips in and out of romantic relations. Clearly drawn intensely to each other, the novel follows their ups and downs as they negotiate the possibilities of their lives and grow into adults.
Filled with intelligent social comment, sharp dialogue and sensory detail, the novel is a page-turner that grips.
As I said in my last blog, I did read the novel after seeing the series and this definitely affected my reading. Whilst both the novel and the series leave the reader/watcher with a similar feeling of nostalgia, romantic empathy and yearning, and deep sadness about the importance of timing in love, alongside all the political and social commentary, they do each highlight what both forms can do best. The dialogue seemed to change little between the two forms, but whilst the novel allowed for a development of greater interiority – hence a better understanding of Marianne's family dynamic – I enjoyed the way the series brought up class distinctions in the holiday in Italy over an ice-cream, and how the sense of the wider social circle, the hum of those background characters was more visually and aurally apparent.
I enjoyed reading and watching Normal People. I'll be reviewing Jack by Marilynne Robinson next.