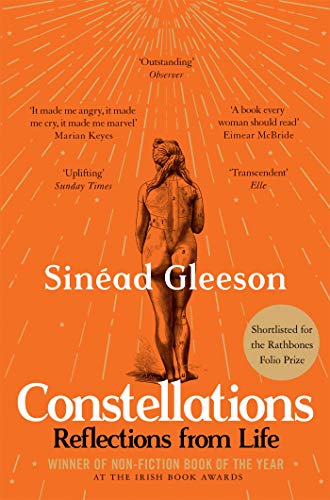 Constellations is one of those non-fiction books whose phrasing is so eloquent you feel like you've fallen into the consciousness of the writer in a way that most often happens in fiction. We can inhabit the world of Sinéad Gleeson in the same way we might inhabit a Marie Darrieussecq character or Madame Bovary. This kind of writing feels as if it crosses over with the trend for autofiction, grips in a way that Machado's In The Dream House does. It feels fresh, honest and erudite. 

The title reflects the telling of Gleeson's life. We are treated to different essays that map out different aspects of her experience as she explores illness and pain, love, motherhood, grief and more. There is a clear feminism, a politics that she herself seems surprised is there, reminding us of how our bodies define the way we move through the world.

I got excited about artist Franko B all over again in '60,000 Miles of Blood'. I was reminded that love stories don't always start in the usual romantic ways in 'Our Mutual Friend'. I felt the freedom and daring of early female adventurers Nellie Bly, Beryl Markham, Lilian Bland and Dervla Murphy in 'The Adventure Narrative'.

My copy is now marked with bent down pages, where passages and phrases spoke to me with real with resonance. Here are a few:

'The kingdom of the sick is not a democracy.' (page 7)

 'Women learn early that absorbing pain is a means of martyrdom inching us closer to the bodies of saints, as if discomfort equates to religious ecstasy. That there is meaning in suffering, except that there is not.' (p167)

'By spring, her body starts to draw level with her mind in terms of deterioration. There is double incontinence, her appetite diminishes. A cup of tea dangles at a dangerous angle in her freckled hand. The sentences become even more half-formed, the lexical equivalent of a ghost estate.' (p231)

It's a beautiful book that makes me appreciate more and more the wonders of non-fiction and what it has to offer. You'll know if this appeals to you, but suffice to say, all the rave reviews hit just the right note for me.

I'll be reviewing Djinn Patrol on the Purple Line by Deepa Anappara next.