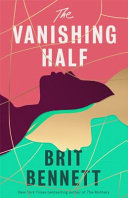 Although the novel brings us to the brink of the Millennium, The Vanishing Half feels like a mythical tale. Two identical pale twins of African-American heritage live in a town called Mallard in Louisiana. Mallard is a town established and built only for those African-Americans with the fairest of skins. They don't want anyone darker skinned living in their town or marrying into their families.
The pale twins, Desiree and Stella watch their father being lynched and killed by white men when they are still only very young. This violence, without them realising it, seems to push them in different directions and whilst they flee Mallard together they do it for very different reasons.
They run off to New Orleans where Desiree finds a dark-skinned man who beats her and gives her a child whose skin is so dark it is described as blue black. Stella becomes a secretary by omitting to tick the coloured box on her application form. The twins have such pale skin that Stella just needs to act white to be white.
While Desiree comes back to Mallard, moves back in with her Mama and lives there with her dark daughter whom everyone in Mallard shuns; Stella disappears in more ways than one. She loses her colour and her family and becomes a white girl, a white woman, wife and mother whose daughter is so pale her eyes are almost violet, her hair a shocking natural blonde.
The Vanishing Half is the tale of what happens to these twins and their daughters. It is a compelling exploration of race, identity and opportunity in 20th Century American South.
I'll be reviewing The Constant Rabbit by Jasper Fforde next.