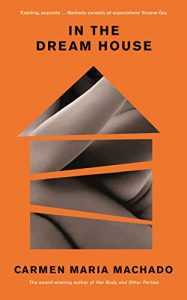 I loved this book. I'm excited about the way it takes memoir in new directions, directions that feel necessary to the ways in which we contextualise and envisage our own lives as part of the wider social and historical setting. This is non-fiction in its most creative and fictional sense, for every form of expressing experience requires a shape and this is something Machado is brilliantly skilled at unpicking and reweaving.
Machado explores the development and ongoing effects of a disastrous and abusive lesbian relationship in a way that addresses how we tell the story of ourselves through myth, fairytale, story, journalism, film, television series, history, psychology, and much more. The individual, specific experience extrapolates outwards in ripples that reflect the silence and erasure of other similar stories kept from the historical record. 
It is brave and it is beautifully considered and crafted. It is also clever, catholic in its cultural reference, and deeply relatable, each new section, each new interpretation of this Dream House of a relationship addictively moreish. 
How does she tell the tale? In multiple ways. Progressing through the journey of their relationship requires that you progress through a series of retellings in different genres and fashions in multiple ways from the inciting incident, through the gothic, the erotic, the pop single, the choose your own adventure, to the plot twist, the cliché, the vaccine and the epilogue. The endless shifting ride forces us to see the importance of self-reflection, our collective need for artists, people who sit, reflect, and then express their vision of the human condition.
Reading Machado is exciting and this book, just like her collection Her Body and Other Parties, makes you feel there are new possibilities of expression, new stories to be told from and through the old. She can't write fast enough for me.
I'll be reviewing Apeirogon by Colum McCann next. I'll also be posted a new vlog on the Authors QH page with the wonderful Irenosen Okojie very soon. Watch this space…