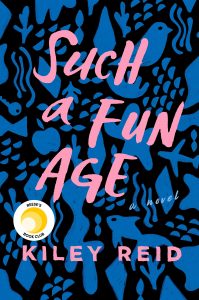 This isn't an easy book to read. Such a Fun Age looks at two women caring for Briar, a little girl just on the cusp of her third birthday as the novel opens. Emira is a young black woman who babysits for Briar three times a week. Alix Chamberlain, a rich white woman with her own business, is Briar's mum.
The novel starts with an incident. Alix's husband is a local news anchor. He makes a throwaway remark that is unintentionally, but nonetheless, racist during his broadcastand in response their window is egged – the glass smashed on impact – late at night. They decide to call the police and don't want their two-year-old to witness the police coming so they call their sitter and ask her to take Briar for a little while.
Emira is at a birthday party for a friend and is dressed for a night out. She explains she's had a drink and isn't dressed for babysitting, but Alix is desperate and so she goes right over and takes Briar to the local grocery store that, thankfully, is still open. Briar likes to look at nuts and smell tea bags and Emira is happy to indulge her.
Emira arrives with her friend Zara and with Briar's encouragement all three girls have a little dance in the store to a song on Zara's phone. A man at the supermarket claps and Zara heads off, leaving Emira and Briar to themselves.
Then the security guard comes and questions Emira. He doesn't believe that she should be out this late with a young child clearly not her own and he's worried about the child's safety. An older white woman reported their dancing to him and even though Emira reassures him of who she is, the woman and the guard talk over her, addressing all their questions to the two-year-old, clearly believing that a black woman in a revealing outfit shouldn't be in charge of a white girl at this time of night.
The man who had clapped their dancing, films the whole altercation on his phone, as Emira finally has to call Mr Chamberlain, 'an old white guy' to sort it all out. The man who filmed the incident claims – as do the Chamberlains – that Emira should sue the store for being racially prejudiced. He says Emira can have the film, share it, get compensation, but Emira doesn't want the spotlight and wants to just shrug off the night's events. In response, the man sends her the film and deletes it from his own phone. That video is hers to do with as she wishes.
That night, that white man with the phone, and that video become the fulcrum point for the whole of the unfolding narrative that painfully unravels Alix's privilege, not only of race but of affluence. It makes for awkward and difficult reading. Emira loves Briar. So does Alix. But their ability to express that love, to nurture and encourage Briar, their priorities in regard to her growth, are put sharply under the spotlight. Around this centre stage shadows from that night and from the more distant past begin to deepen. What happened in Alix's past? Why is she so desperate suddenly to befriend her sitter? Who is the white man from the grocery store and why is he significant? Did he really delete that video?
The plot is gripping; the unravelling of racial and financial prejudice is meticulous and cleverly nuanced. It's not easy to read but the pace of the unfolding plot keeps you going. I can't say I enjoyed reading it, but it does explore the complexity of money and race in American society in ways that make you want to check your own privilege more closely. It is also as generous as it is searing – no mean feat.
I'll be reviewing The Girl with the Louding Voice by Abi Daré next closely followed by On Earth We're Briefly Gorgeous by Ocean Vuong.