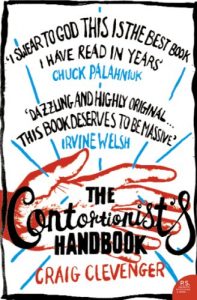 How do you hide from a difficult past when you have a left hand with an extra ring finger and bright red hair? Even if you're exceedingly clever with a phenomenal talent for drawing? If you're John Dolan Vincent of The Contortionist's Handbook, you become a forger.
Initially running from a rough childhood – an abusive father in and out of jail; a school record that mistakes his savant abilities for special needs – the lure of reinvention becomes a habit, especially after the doctors can't diagnose his headaches and conclude they are psychologically induced. In order to avoid the mental hospital – each headache episode ends in overdose as he takes more and more drugs to control the pain – every headache requires a new identity.
But what will he do when he's being chased not only by the system but by the criminals he forges documents for? What if identity holds more than a social security number and losing it might mean losing the woman he loves?
The Contortionist's Handbook is a race of a book filled with multiple questions about western society and its values. It feels like a thriller but it's no less a literary social critique. Funny, sad and angry, with a pleasing twist at the end, it would be hard not to enjoy reading about John, a man of shifting identities with a skill for misdirection. Why it hasn't been made into a film yet, I don't know.
I read this novel because it is one of Joseph D'Lacey's favourites. As you'll know I'm a huge fan of his work and of his novel, Meat, especially. His novels are being rereleased right now with beautiful new covers by Ben Baldwin, also a Clevenger fan. Take a look on Joseph's site here for details of his new releases and for a blog post on Ben Baldwin's art work. You can also find his titles here.
Next week I'll be reviewing Our Life in the Forest by Marie Darrieussecq.