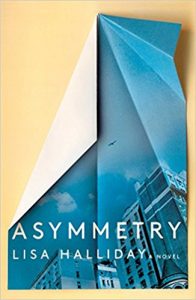 Asymmetry is a novel of three parts. The first is about a young woman named Alice, an aspiring writer, who has a love affair with the literary giant, Ezra Blazer. It's set in New York. The second is about an Iraqi-American economist, Amar, held by immigration in Heathrow, London in 2008. The third is the transcript of Ezra Blazer's appearance on the BBC Radio 4 show 'Desert Island Discs'.
How these three parts sit in symmetry, or not, to each other. How the three main characters lives compare and contrast to each other, encourages us to compare the influence of birth, gender and situation on our ability to choose our path in life. It is also impossible not to try and seek connections between the three parts, to try and understand how these stories relate to each other. We, like Alice, must use our imaginations to create meaning. As Ezra Blazer says, 'It's human nature to try to impose order and form on even the most defiantly chaotic and amorphous stuff of life'.
In that final section we are given a clue to one of these connections.
You could think that this makes Asymmetry an overtly literary novel, something intentionally tricksy. While it is full of literary reflection and reference, it is also very easy to fall into the flow of the characters lives; the writing and storytelling is immensely absorbing.
In America much has been made of Lisa Halliday's affair with Philip Roth and the possible comparisons between her story and the story of Alice and Ezra Blazer. Much like Lisa herself, I'm not really interested in this (see her interview on The New York Times Book Review Podcast). I am however, frustrated by how easily critics and publicists look for the scandalous angle rather than thinking about the other more interesting comparisons to be made between Asymmetry and other novels like Ali Smith's How to be both and The Living by Anjali Joseph. We are living in a world in which we live asymmetry but only those suffering from the imbalance seem to notice. Thinking of ourselves outside of our cultural, racial, national, religious, sexual boundaries is really important for a development of human consciousness and the survival of our planet – though I'm not sure that the latter was really on Lisa Halliday's mind.
Asymmetry is a clever and thought-provoking novel. It should be part of a wider conversation about books that sit seemingly different narratives together to inform and challenge our interpretations of the more 'defiantly chaotic' nature of our world.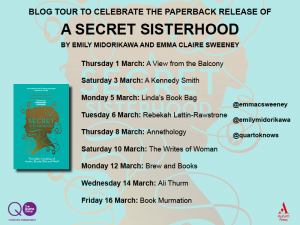 Next week I'm reading Home Going by Yaa Gyasi and I'm taking part in the blog tour for A Secret Sisterhood by Emily Midorikawa and Emma Claire Sweeney, now out in paperback.