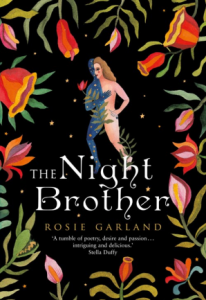 Edie and Gnome are brother and sister. Or are they?
It's difficult to review The Night Brother without spoilers. Set in Manchester at the turn of the century from the 19th to the 20th, the suffragette movement is on the rise. Edie and Gnome become caught up in a new wave of free thinking pushed to its limit by their predicament. For, ultimately, the novel is about a radical rethinking of sex and gender. What does it mean to be a woman or a man?
Whilst I found the end of the novel somewhat polemical and potentially too neat, happiness too easily won, the journey through the characters lives is playful and compelling. The rippling shifts of flesh and gender are fascinating and with equal physicality we experience the violence of raids on gay bars and police brutality towards peaceful suffragette marches.
This is a novel that will undoubtedly spark debate. I don't want to say too much more because that really would spoil the plot, but I'd be delighted to talk about this with anyone who has read the novel. It's a fun and compelling read. I'd be interested to hear what people think about the portrayal of the brother too…
Next week I'm reading Fever Dream by Samanta Schweblin.