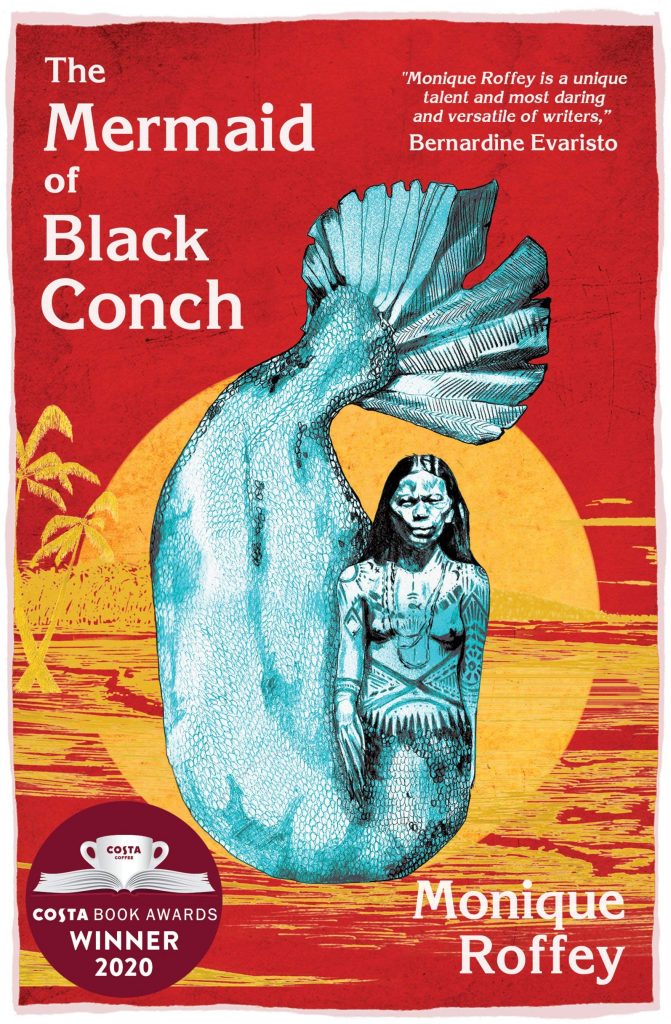 In 1976 David Baptiste found and fell in love with a mermaid in the waters of Black Conch in the Caribbean. When the yearly fishing competition opened, two white men from Florida hired a crew and sailed out to catch the biggest fish. They caught the mermaid.
They string her upside down by the sea and drink in the local bar. David cuts her down and takes her home, planning to put her back in the sea.
Next day, no one knows if it was madness, drunkenness that had all those men believing they'd strung up a mermaid.
David doesn't take her back straight away. As she sits in water he salts, in his bathtub, the mermaid starts to lose her tail. Tail, fins, scales, webbing fall away revealing a young woman beneath. A woman, Aycayia, whose beautiful voice and enticing dancing, made men long for her and women hate her enough to curse her, many hundreds of years ago, long before the white man killed her people, and banish her to the loneliness of the sea.
Told partly through poems written by the mermaid, partly through a more modern journal written by David, and partly in a third person, the story of the The Mermaid of Black Conch is a myth made modern, a story old enough to breathe its magic into the modern world and transform those who encounter it. Not only is it fabulous storytelling, it addresses so many of the complexities of history that spring from the human desire for ownership, greed, but also love. Steeped in the difficult past of the region, the story begs us to allow love to triumph over history, to triumph over greed.
There are many wonderful characters aside from David and the mermaid. The white woman, Arcadia Rain, on the hill who owns most of the land and who loves a black man who fled her when he heard she was with child has her own story of love to tell and it too sings with the power of jealous, angry words, and the harshness of history and humanity's covetous eye.
This seemingly simple fairytale holds multiple stories and ideas within it. Like the wide ocean Aycayia is banished to, this novel is teeming with life so plentiful it keeps on offering more, wave after wave. The Mermaid of Black Conch is an astonishing achievement, a story that should sing long beyond our time.
I'll be reading Madame Zero by Sarah Hall next.