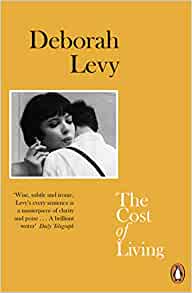 I loved the first in this trilogy of autobiographies initially inspired by George Orwell's essay 'Why I write'. This second one was equally excellent.
As I've been better at reading than writing reviews lately, I wish I'd written my review of this book just after reading it, rather than now. As I turn its pages, looking at all the corners I've bent down to return to, what strikes me is how good Levy is at creating a feeling, a cohesive emotional and intellectual sensibility throughout a book that holds and shapes your experience of reading. You come away with an understanding of what she's saying that feels more like the heightened emotional sense you get from a good conversation, than either an essay or an autobiography. You come away with the tingly feeling of inspiration.
The book, though filled with autobiography, is about so much more. It takes the ideas of what it means to be a woman writing in the twenty-first century even further than her last, Things I Don't Want to Know. There are anecdotes that explain why a writer, a storyteller, also needs the right listener or reader in order for their story to be heard. The costs of writing and living are also explored. You need a place to write and the means to find time to do it. She continues too to be very good at quoting from others. Again and again we see the patriarchal male taking control over the female and her voice. Levy tries to stand against this.
All I can say to sum up is that I'm desperate to read the next instalment of the trilogy which comes out this year, I think. Her memories, thoughts and ideas are ones I know I will return to over and again. I'm excited and inspired by Deborah Levy. Her generosity, exuberance and belief in the world are infectious.
I'm reviewing Second Place by Rachel Cusk next.