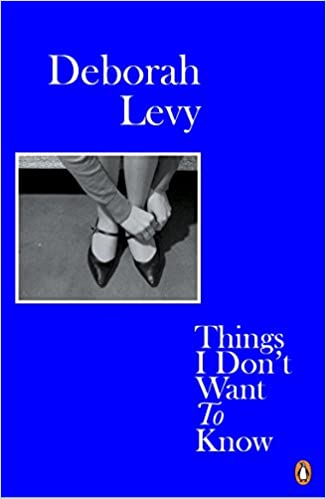 I loved this book. Written as a response to George Orwell's 1946 essay 'Why I Write', Levy's book, framed by her times-across the years-in a hotel in Spain, is a playful and painful exploration of all that led to her lifting the pen, pushing the keys, speaking with a louder voice.
I wanted to turn down the corner of almost every other page and her choice of quotations from other writers was so perfectly apt that I wanted to go away and read those books too. She uses these quotations to push her thinking further. If, as Adrienne Rich said, 'No woman is really an insider in the institutions fathered by masculine consciousness' then Levy unravels Motherhood (her capital letter) as 'an institution fathered by masculine consciousness' that leads to Levy staring at a poster in her bathroom of the skeletal system that she continuously misreads as the societal system and to tears on every upward escalator.
Each new chapter, each new event that Levy explores forms a small piece in an emerging picture of her need to translate the world into words and stories, of her need to understand the world she grew up in from South African apartheid, which her family had to flee as her father was a supporter of the ANC and he had already been jailed for his views, to a cold England in which she didn't feel at home.
She asks key questions about the very things we don't want to know about ourselves.
"Where exactly was southern Africa? One day I would look at a map and find out. That night I lay awake all night long. I had so many questions to ask the world from my bedroom in West Finchley about the country I was born in. How do people become cruel and depraved? If you torture someone, are you mad or are you normal? If a white man sets his dog on a black child and everyone says that's okay, if the neighbours and police and judges and teachers say, 'That's fine by me,' is life worth living? What about the people who don't think it's okay? Are there enough of them in the world?" (p149)
The book is filled with difficult questions and stories that hold them, like her godmother's caged bird that won't be set free.
I was so engrossed in reading Things I Don't Want to Know that it distracted me from reading what I was meant to be reading and I've ordered the second in this trilogy of 'living autobiography' and can't wait to read it. The third part is out later this year. In the meantime, I turned to Little Eyes by Samanta Shweblin and will review that soon.