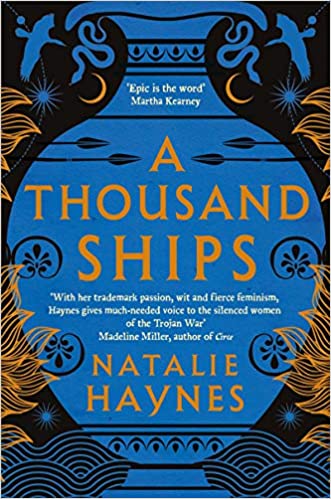 This novel does exactly what it suggests it will do on the cover: it gives an overview of the Trojan War – its beginnings and aftermath – from the perspective of the women. We have goddesses, from Gaia to Thetis, queens and princesses, furies and the weavers of fate all giving their voice to the well-known stories. I enjoyed it immensely.
A Thousand Ships isn't a Madeline Miller style tale. The focus is broad and not sharp. We dart, take short intense dives into various perspectives, and fly out again. This makes for a particular kind of tale, an argument about what it means to have your story valued and what it takes to be heroic. The male heroes are seen in a fresh, unflattering light, their paunches and wine-heavy breath mingling with their arrogance and ill considered actions. War changes everyone, even Odysseus whose wiles turn towards rather than away from blood and death. In fact, it is this complex non-binary depiction of the characters that gives them life. They are heroic and petty and heedless, brilliant and cruel, pious and ungodly, in turns or all at once and all that is certain is that things change. Fortitude is the trait the women show over and above anything else. They have a capacity for endurance, regardless of their shifting situation, that none of their male counterparts seems to possess.
I don't feel the book needs more advertisement than this. You will already know if it is for you. I think I'd prefer a slower unravelling of the multiple tales, but this isn't what the book sought to do. It would be a great accompaniment to anyone wanting to understand and interpret some of our oldest stories.
Part of me wonders when we will see these stories from the point of view of the ordinary people. I would be interested to read the lives of those whose names have not lingered, but who worked the land or dressed and fed the wealthy. I hope that book will be written soon.
I'll be reviewing Fragile Monsters by Catherine Menon next.