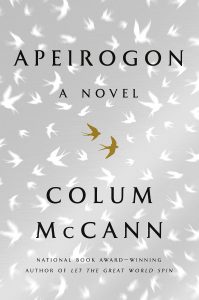 Apeirogon isn't a book you can read lightly. This isn't a reflection upon its style, which is clear, eloquent, at times haunting, but instead upon the subject matter. I feel I've been reading a lot of books recently that play with the idea of what a novel is, that dance over the line of fact and fiction. Apeirogon is one of those books.
Based around the true stories of two men, Bassam Aramin and Rami Elhanan, who both lose a daughter to the Israeli occupation of Palestine, Apeirogon takes us through one day in their lives as both men from different sides of the divide come together as part of the Parents Circle Family Forum to talk about their experiences of loss. We move in numbered sections, from 1 to 500, up to the full depictions, given as talks, of how they lost their children, each individual story having its own number 500 as the day continues on from 500 down to one again. In between their accounts is the number 1001, that magic Arabian Nights number that uses story to delay death, that keeps their daughters alive in memory, that forces the reader and their listeners to consider the implications of a true remembrance that leads to peace. No daughter should ever be put at risk again.
There are photographs, details from their lives growing up, through jail, war, marriage, travel and parenthood. And as we flow from one man's head and experiences to another, we take in other ideas, people and histories that throw light upon the difficulties of this conflict. We look at the migration of birds across the wall. We consider the death of one man who was preparing to translate the Arabian Nights into Italian to show the nuance lost in most European translations. We contemplate the holocaust and its impact upon Israel's actions. We watch a tightrope walker straddle a wire across the divided city with a pigeon – rather than a dove – circling his steps instead of flying away. We're shown how the monks whose gardens cross the wall used to grow and make their wine. And so much more besides.
This is a delicate, perfectly poised novel that requires active engagement. Here are two men seemingly at odds, who have been able to become friends, who unite in the face of a conflict that serves no one. It is political, philosophical, but most importantly human. We learn of the stolen mint that Bassam ate during his prison hunger strike – previously kept entirely secret even from his family. We wonder and share in the blindness of many Israelis unaware of the suffering on their doorstep, thinking of the Palestinian only as an object.
This is a book that could and will be studied. This is a book that should win prizes. I haven't done it justice here, but I hope very much that it rises to the top of the book charts and gets people thinking about the importance of listening, of taking time to hear opinions and experiences different to those most like our own. I can't recommend it highly enough and know I will be returning to its pages.
I'll be reviewing A Dinner Party in the Home Counties by Reshma Ruia next. During my reading and not reviewing I have read another Witcher book. They are so good at transporting the reader away from their surroundings. Reading them is very soothing. I won't review this one – The Witcher: Baptism of Fire by Andrezej Sapkowski – but you can read my previous thoughts on the series here.