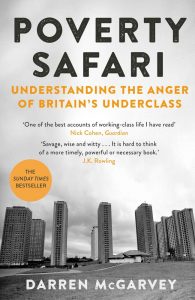 The full title of this book is Poverty Safari: Understanding the Anger of Britain's Underclass. Written by a man whose own story of deprivation – growing up on the wrong side of Glasgow with an addict for a mother who abused and abandoned him and then committed suicide – he claims has gained him a voice in the established middle class media, the title alone explains the complexities, difficulties and necessity of addressing class. In order to be given a voice, Darren realises he needs to talk about his own suffering, he needs to give the middle classes their poverty safari, their grand tour through the deprived estates of Britain, because if he doesn't no one will listen to what is an essential message – that no one is listening to the deprived lower classes and if no one listens, nothing with change apart from a growing sense of anger and disaffection.
It's refreshing to read a political and social commentary that challenges the standard responses of left and right. It's refreshing to read an honest, personal account that puts political opinion in a personal context.
The book is at once autobiography and a call for social justice that suggests changing poverty requires radical changes in everyone involved.
It's not easy reading – it is sometimes depressing, sad, upsetting – but it is important. Change involves dialogue, but before we can speak, we need to learn to listen.
I don't usually review or read much non-fiction, but my sister recommended I read this book and I'm really glad she did. It has something to say to everyone in Britain.
I'll be reviewing In The Dream House by Carmen Maria Machado next.