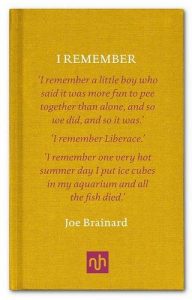 Before I start my review, I should apologise for not posting for a while. I was ill in February and it seemed to push everything out of alignment. I don't imagine many of you missed your weekly instalments of my thoughts on books, but if you did you are in for a treat as I try and catch up with a few posts all blogged close together. In addition to I Remember by Joe Brainard, Poverty Safari by Darren McGarvey and In The Dream House by Carmen Maria Machado, I did also read another Witcher book – Time of Contempt – but I'm not going to blog about that one as you've already got a review of my thoughts on The Witcher by Andrezj Sapkowksi. So, here we go…
 I Remember is one of those extraordinary books that sounds boring, repetitive and gimmicky, and yet is anything but. A collection of memories, that never span more than a few paragraphs, which each begin with the words 'I remember', Joe Brainard uses this pattern to build up a portrait of his life in the 1950s and 60s in America, as well as the complex movement of the mind through memory. 
 A list that covers sweets, films, dreams, outfits, the sound of the ice cream van, historical events, thoughts, significant personal moments as well as wondering whether his elder brother was queer too or how he couldn't quite give himself a blow job, we end up with a diverting and shimmering portrait of a mind and a life. His rememberings make for something both fleeting, ephemeral, and significant and lasting; together they shape a history or biography that reflects identity's constant shifts.
It's fun to read – occasionally, but necessarily, weirdly dated – and it isn't surprising that Paul Auster, who says it is one of the twenty or so most important American autobiographies, is a fan, nor Frank O'Hara. Joe Brainard, an American artist and writer associated with The New York School, went on to write several additional volumes, even a Christmas edition. It's a formula that keeps on giving, that feels oddly addictive to read particularly because it mirrors the seemingly serendipitous flow of consciousness through and across time.
Go on, give it a go.
I'll be reviewing Poverty Safari by Darren McGarvey next.