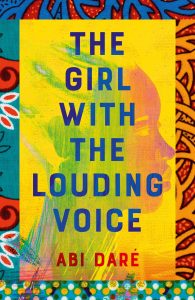 The girl of the title is Adunni, a young Nigerian from a small village whose mother has just died and who must face new realities now that there is no one fighting for her to stay in school. Her mother was the one who believed in education, who believed that Adunni should become a girl with a louding voice. But with her mother gone, her alcoholic father needs money to support himself and Adunni's younger brother. He wants to marry her off to an older man. An older, rich man who already has two wives. 
I could describe the entire plot of the book – because Adunni's journey is both gripping and memorable – without spoiling the real heart of the novel, Adunni's beautiful, clever, and thoughtful voice, but I won't. It's simpler to say that this is a book you fall in love with because it is almost impossible not to fall in love with Adunni. 
Right from the start Adunni's unusual use of English is enticing and fresh, looking at the difficult choices she faces with pragmatism and bravery. The flaws in Adunni's grammer do not constrain her expression, but impress her world and perspective more nearly upon us. She is such a warm, smart, optimistic, opportunistic and all-embracing girl that you can't help loving her and wishing her well. She sees the good even in those who beat her. She sees the difficulties of those whose privilege is far greater than her own. 
Without being patronising or preachy, this is a book that encourages its readers to wholeheartedly embrace the good in their lives. Adunni is a character who will speak to many. The Girl with the Louding Voice should go straight onto the lists of books taught in schools. I will be disappointed if it doesn't. I wouldn't be surprised to see this novel hit the prize lists for this year. The Girl with the Louding Voice is a remarkable achievement, with an irrepressible character at its heart. Pre-order yours now. It comes out in March 2020.
I'll be reviewing On Earth We're Briefly Gorgeous by Ocean Vuong next.