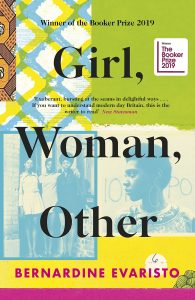 Girl, Woman, Other is one of those amazing books that opens many avenues of thought whilst being steadfastly generous. I hate things being described as warm-hearted because it suggests sentimental mush, but this book really is warm-hearted without saccharin sentiment; it is also beautifully crafted, the weave of characters and stories is pleasingly sharp and tight.
There are twelve different characters whose stories go back as far as the early 1900s and Evaristo manages to make them all real and unique. The book feels like a reflection of modern Britain, one in which connections between people cross our perceived boundaries of race, sexual orientation, class and gender, even when some of us might most like them not to. 
Spanning more than a hundred years of life, mostly in Britain, the novel explores the ways in which history binds and holds us, and how a real working knowledge of that history can also set us free.
I definitely wanted to read the book again and I will certainly be reading more of Bernardine Evaristo's work. Given how she has already used her Booker Prize win to share the work of others, I'm convinced she is just as warm-hearted as this novel. If you haven't ready Girl, Woman, Other, put it on your Christmas list and be prepared to have your prejudices carefully and kindly unveiled.
I'll be reviewing Her Body & Other Parties by Carmen Maria Machado next followed by Nudibranch by Irenosen Okojie and Such a Fun Age by Kiley Reid.