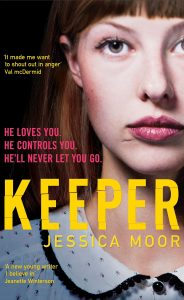 Keeper is a thriller with a message. Divided into sections that explore Then and Now, the novel looks at the life of Katie before and after her death. We move from the close third perspective of Katie's Then, to the close third of DS Daniel Whitworth in the Now.
Katie worked in a women's shelter, caring for women and children fleeing domestic violence or abuse. Her body washed up downstream from an old bridge, popular with suicides. Though it appears to be a straightforward case, Whitworth isn't quite able to leave it alone. Katie has no records. Who was she?
While the police try to uncover her identity, they attempt to unravel the testimonies of the women at the shelter. It's a complex place filled with women whose stories are at once very different – different ages, backgrounds, reasons for coming to the shelter – and very similar in that they are all struggling with the complexity of their relationships with the people who abused them and their sense of self-worth. Though the woman who runs the shelter, Valerie Redwood, is an angry, overweight feminist, who bullishly tries to protect the women in her care in a somewhat insensitive way, she does care, but why didn't she know who Katie really was? 
If I say too much more I'll give away the twists of the novel, which would be a great shame. The ending is pleasingly tight in plot, revealing how easily abusers blend into upstanding society, but unresolved in criminal terms – something no doubt true to life – making the resulting story both disquieting and haunting.
If you're looking for a bleak, alternative who-done-it, with surprising and painful twists and a complex understanding of the female victims of domestic violence and the huge obstacles in the way of their freedom, then this is a book for you. Keeper is clever, fast-paced, and devastating.
I'll be reviewing Girl, Woman, Other by Bernardine Evaristo next.