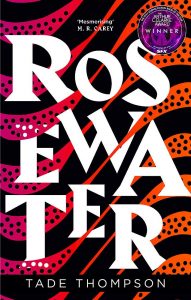 Rosewater is not only the winner of the inaugural Nommo Award for Best Novel (Africa's first award for speculative fiction), but also the winner of the Arthur C. Clarke Award 2019, shortlisted for the Kitschie Award for Best Novel 2019 and finalist in the John W. Campbells Award for Best Science Fiction Novel. With all of these accolades you open Rosewater filled with expectations and the novel, the first in the Wormwood trilogy, does not disappoint. I was gripped right from the start.
Centred around Kaaro, a government agent and sensitive – meaning he can read people's minds using the xensophere, an interconnected series of spores that live in the air and link everything and everyone together. His day job is in bank security, stopping other sensitives from accessing important data that might allow them to steal from the bank. His government work is more complicated, more dangerous and centred around the biodome. 
The biodome is a large alien sphere in the centre of Nigeria, around which a town has grown. Every year when the dome opens up, people come to be healed. The alien heals the body, can wipe out HIV, heal broken limbs, cure cancer, but it's not foolproof. It can't heal the mind. It can reanimate dead bodies buried in the ground nearby but they don't truly reawaken and have to be burned. Sometimes the alien gets it wrong and people walk away deformed. 
But what is the biodome? Kaaro was there at the very beginning and as we switch between past and present, the novel unfolds multiple plot lines that begin to explain the alien presence, the dome, and what it means for the future of mankind, all while Kaaro himself, and sensitives like him, are under threat, dying off. Their abilities seem to have been triggered by the alien presence, so why now are they getting sick and being picked off one by one?
So many questions and complex lines of plot, the novel is an absolute delight to read, questioning mankind's response to anything it doesn't understand and looking at how we conceptualise what being human actually means. 
America, for example, has gone dark. No one knows what it is up to. No one goes in or out of the country anymore. Britain once had contact with an alien but they shot weapons at it. What will Nigeria do? What will Kaaro do? When love and friendship complicate an already dizzying array of issues and themes, the pressure to make the right choice intensifies.
I finished the novel and instantly wanted to read the next in the series. With many of the themes of Margaret Atwood's MaddAddam trilogy with aliens added in, this is smart fiction that deserves all the recognition it can get. I thoroughly recommend it.
Next week I'll be reviewing The Wayward Girls by Amanda Mason.