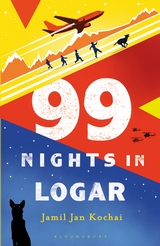 Set in 2005 on a family holiday home to Afghanistan, Marwand has come all the way from America to visit his family in Logar. Staying predominantly with his mother's family because his father's home and family were devastated during previous wars, Marwand is most looking forward to seeing the family dog. Since arriving in America, he has been taught that dogs should be trained with rewards and love and he carries with him guilt over torturing the dog when it was still a puppy.
The first thing he does is rush to the dog to make a amends, but Budabash is a fierce guard dog kept on a chain. Budabash eats off the tip of Marwand's finger.
Told from Marwand's perspective and in a way which moves backwards and forwards through the 99 nights of their stay, the novel uses myth, Koranic and storytelling traditions to turn one child's summer into a complex record of Logar's political, social, familial and religious relationships. The ghost of Marwand's finger refuses to die so that we are constantly thinking about what it means to be whole, of what memory and damage do to identity.
At the heart of the novel is the search for Budabesh, who goes missing part way through those 99 nights. Finding him requires facing the maze of old Logar streets whose confusing alleyways provide a defence against invaders as well as a test for those seeking to navigate their paths.
There is real pleasure in all the layers that move through Marwand's experience of his family and his environment. This is a coming of age journey that not only makes a war-torn landscape an ordinary every day location, it simultaneously elevates it through the myths and mysteries of past narratives whilst keeping that sense of childhood wonder.
99 Nights in Logar is a joy to read and though I'm sure I don't get all of the references, this is a beautiful and challenging novel whose exploration of life, identity, belonging and belief makes you think afresh about the land and people of Afghanistan. It doesn't come out until early next year, but I would recommend pre-ordering your copy now. 
Next week I'll be reviewing Friday Black by by Nana K. Adjei-Brenyah.