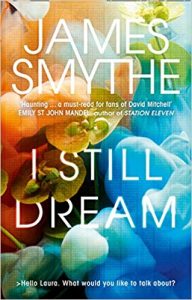 Based around the race to create artificial intelligence, mostly begun as computers built to win games, I Still Dream is a fascinating exploration of what it means to be conscious and of the importance of teaching morality.
Laura Bow uses a slow dial up internet connection to create a computer programme in her spare time. Having lost her father at a young age, she creates a programme that will listen, store information, learn how to ask and look after her well-being.
Her father was also a programmer, creating something that learnt how to manage accounting systems and filter knowledge. Laura goes on to work at the company he helped to start and her programme ends up going head to head with her father's in more ways than one.
To say more about the plot would undoubtedly spoil the novel, but there are some fun 80s music references – her programme is called Organon from the Kate Bush Cloudbusting song – and the story is sufficiently driven by Laura's life to allow the debate about what AI is and what it could or should be, a thematically relevant, but not always dominant, subject.
I was interested in the near future speculations about the dangers of giving one programme control over multiple different data sources, of what it would mean if everyone's personal data – all their emails and text messages, whatsapps, private tweets, medical records, etc. – became public. Indeed, the whole issue of trust is another central theme. Who do we trust with our intimate thoughts and feelings? How do we create a programme that we can trust if we do not teach it what it means to trust? You get the idea.
I enjoyed reading I Still Dream. Laura herself seemed believable, but there were things that I didn't like as much. I wasn't convinced by her relationship with her husband. I didn't quite understand how she became so close to a blogger and journalist later on in the novel. I also wanted to power through the book faster, as if there were parts of the story that I simply didn't need to know to grasp what I Still Dream wanted to say to me, wanted to get me asking questions about. Having said that, I'm not a programmer and I'm the kind of person adept at accidentally breaking technology, so it may be that I'm not the ideal reader for this novel.
Another important theme in the book is memory. Computers are so much better at it than humans. Laura wonders whether it would be better for her programme to store our memories for us. But isn't the fallibility of memory, the way it shifts and bends over time to shape our sense of identity and history, something specifically human? Is it better to have the fact or narrative? Aren't there many circumstances in which we need both? And if you can teach a computer to filter information, aren't you also teaching it to shape information, to present it in certain ways that might give a sense of bias and hence be closer to the human narrative thought than the presentation of bare fact? In which case the ideas of fact and truth themselves come into question. And so the philosophical debate wanders on in the mind, but not necessarily always on the page. There are hints and nudges to get you wondering about what it really means to be alive and whether any human can imagine anything beyond a copy of itself, but I would have been happy with further exploration of these ideas.
I Still Dream is thought-provoking and will be a sure fire hit with some, even though it wasn't one hundred percent with me.
Next I'll be reviewing Kudos by Rachel Cusk.