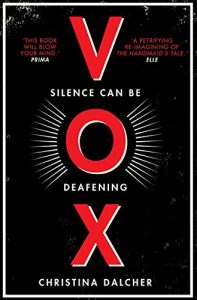 Vox is a very powerful and timely novel that follows hot on the heels of books like Margaret Atwood's The Handmaid's Tale or Naomi Alderman's The Power. It is set in a near future in which the Christian religious right has taken control of America. With The Pure Movement, the government seeks to return America to a state of grace in which the family and the patriarchy are key. Women must understand their place as home makers, supporting their husbands through deed and not word.
Bracelets are introduced for all women and girls that count the number of words they can say in a day. Once they go over 100 they are given a mild electric shock. Keep talking and the severity of the shocks increase.
Jean was once a cognitive linguist and leader in the field of curing aphasia – a state in which the brain forgets how to make sense of language. When the President's brother has an accident that leaves him with aphasia, they call Jean back to work, removing her bracelet, offering her a reminder of the freedoms of the recent past. She doesn't want to help them, but she does want to free her young daughter who is about to win a prize for speaking the least number of words in a week. If she can get the bracelet off her daughter, even for a time, helping the government and regaining a sense of purpose might be worth it.
But do they really want to find a cure for aphasia? How useful might it be to turn that cure around and use it to silence?
While her husband plays the game, working for the government, her sons grow more extreme in their misguided views of the natural order and old desires for colleagues, old memories of feminist friends who saw it all coming, rise up and ask her to question what she should do next.
It's not a beautiful book. I don't read it mesmerised by the sentence structure, but I am gripped by the storyline and the message Vox conveys left me very shaky with anger and fear. Not only did this government seek to silence women, it also locked up homosexuals in cells with one woman and one man, waiting for them to see the light and form proper acceptable families. It makes it clear that other minorities will soon be vulnerable to correction too.
Written by a theoretical linguist who spells out her message in her preamble, Vox has a clear directive: appreciate your rights and use them fully; don't slide into apathy for fear of what might take hold while you're looking the other way.
You'll read Vox in a few short hours, compelled forward by the tension in the narrative, and feel affected by it for some time to come. It's a thought-provoking kick in the mouth that fulfils a current taste for speculative dystopias and asks us to question why we want to read them. Out this month, I thoroughly recommend it.
I've been preoccupied over the last few weeks, for various reasons, and my blog has suffered. I'll be trying to catch up on the books I've read over the next days with a review of Mother by Hannah Begbie next.