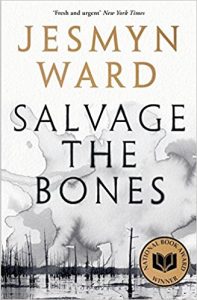 Esch lives with her father and brothers in Bois Sauvage, Mississippi. It's a backwater place where they struggle against poverty: eating eggs from their multiplying chickens, wearing hand-me-downs from each other and friends and stealing what they can't afford.
Esch's mother died giving birth to Junior, the little brother she and her eldest brother, Randall, raised. Their father's often drunk, his odd jobs not bringing in quite enough.
They like to hang out in the pit, where Skeetah, Esch's other brother, has found a stray dog to raise into a fighter. There's lots of money to be had from fighting dogs.
The novel opens as Skeetah's dog China gives birth to her pups. He's prepared to do anything to save those dogs, to breed more fighting dogs.
This struggle to give birth, to bear fruit in a world pitted against you, is a strong theme in the book. Esch too discovers she is pregnant, despite being only 15. Pregnant with a boy she's in love with, a boy with paler skin who refuses to acknowledge her in public. A boy who has a jealous girlfriend. A boy whose cousin's dog fathered China's pups.
And behind all of the pain, blood and power of birth is the developing hurricane, which just happens to be Katrina.
Esch is an avid reader of Greek myth. She is particularly fond of Medea. The intensity of Medea's story forces us to see links between the old epic stories and Esch's life, pulling writers like Toni Morrison and William Faulkner into the reader's horizon. It makes sense that the novel won the 2011 National Book Award for Fiction. Her most recent book, Sing, Unburied, Sing has been shortlisted for the Women's Prize for Fiction 2018. Jesmyn Ward gives epic grandeur to the marginalised lives and voices of Esch and her family. I will definitely be reading Sing, Unburied, Sing.