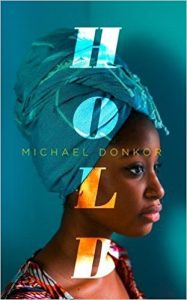 Belinda is a teenager, working as a housekeeper for Aunty and Uncle in Daban, Kumasi, Ghana. Her Mother needed her to find her own way in the world, away from home, and when this rich pair, not actually related, could take her on, it couldn't have seemed more perfect.
No one told Belinda that they would be picking up a younger girl, Mary, on the way and that she would have to help train Mary to keep the large house with her. Not only was she saying goodbye to her mother forever, she was also taking on a child as well as a household.
Then Aunty and Uncle's friends from London come to stay. They are so impressed with Belinda that they ask her to come to London to try and bring some Ghanaian magic into their daughter's life.
Amma is unhappy and disrespectful. Despite being a model student, Amma's parents can no longer control or understand her and they need help. They think Belinda can help them.
So now, suddenly, when Belinda has lived with the small curve of Mary in her bed, Mary's defiant laughter in her ears, her life in her heart, Belinda is called to go away to London and fix another child the same age as herself.
We have chapters from both Belinda and Amma's perspectives. We live the second generation immigrant experience of Amma and we see London and its people through Belinda's eyes. Her only real connection to home are telephone calls with Mary who moans about her work and offers surprisingly pertinent advice. Mary consistently grasps at all she can get from life, making her as much an inspiration for Belinda as Belinda is for her.
The novel opens with a funeral leaving death hanging over the narrative, the potential of loss a permanent threat.
This is a very beautiful novel that makes the lives of two young girls, on the cusp of adulthood, into something far richer than a straightforward coming of age tale. Generational battles, cultural clashes, moral and social judgement and confusion all rear their heads across the carefully drawn geographies of South London and Daban. And underneath it all beats a message of kindness: kindness to others, yes, but also kindness to the self. There is an emotional depth to the novel that side steps sentiment with carefully unresolved plot lines and strong characters prepared to go back before they can go forward. I thoroughly enjoyed Hold. It asks more questions than it answers, leaving the reader thinking, questioning others and themselves. I hope Hold gains the notoriety it deserves.