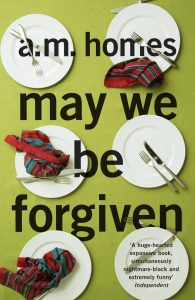 It is thanksgiving and Harold kisses his brother's wife, Jane.
This is the beginning of Harold's tale, one which not only brings catastrophe but also self-awareness and healing.
George, the younger brother but the one always assumed to be the elder due to his bullish behaviour and career success, loses it. His rage turns everything upside down.
I'm tempted to say more about the plot and though that would not ruin the novel – May We Be Forgiven isn't only about plot – it would take away some of the drama of the first few sections. Instead, I want to talk about the American Dream.
As an English person I'm not really qualified to write about the American Dream, but it is something the novel really wants to unpick and one could argue it is a dream that most of the world relates to – a dream to live in freedom and in prosperity.
Harold is a Nixon obsessive. He believes that, despite all of his faults, Nixon reinvented a contemporary American Dream and in some ways embodied the complex desires, drives and darkness boiling within that dream. This means May We Be Forgiven cannot be about America in isolation. Many of the characters are of different ethnic origins, notably Latino and Chinese. There is also a trip to South Africa forcing the characters to see afresh and question their American lifestyle.
As this continues, Harold is also given access to previously unseen short stories written by Nixon. He reexamines Nixon as a person, taking that American Dream out of the world arena and into the personal one, bringing the novel back around to the daily drudge and the importance of family and responsibility. May We Be Forgiven asks us to compare the responsibility of a nation with the responsibility of family. Alongside Harold we are forced to ask what family and community really mean.
I'm not clever enough or knowledgeable enough about American history to take these musings and apply them to the current climate. All I can say is that the novel is interesting and compelling. Strangely, I realised half way through that I had read the book before. It didn't stop me reading to the end but it did make me wonder why the novel hadn't been more memorable for me. A. M. Homes gives the reader a lot to chew on. Perhaps I simply wish the main first person narrative didn't belong to a man. Or it could be that the mess the initial adulterous kiss creates resolves too easily, too lovingly, for me.
Let's just say you'll know if these themes appeal to you. I know that working beneath the book is an examination of the good and bad of humanity and A. M. Homes' interest in our monstrous selves is something that appeals to me. At one point, Harold's niece is at the High Holy Days feeling horrified by all they must ask forgiveness for. Harold replies:
"We're human, Ashley. We atone because, despite our best efforts, we will always do harm to others and ourselves. That's why each year we ask those we have hurt for forgiveness, and each year we present ourselves to God and ask to be forgiven."
She starts to cry. "It's just so terrible," she says.
"Which part?" I ask.
"Being human."
This week I'm reading Seeing Red by Lina Meruane translated by Megan McDowell.