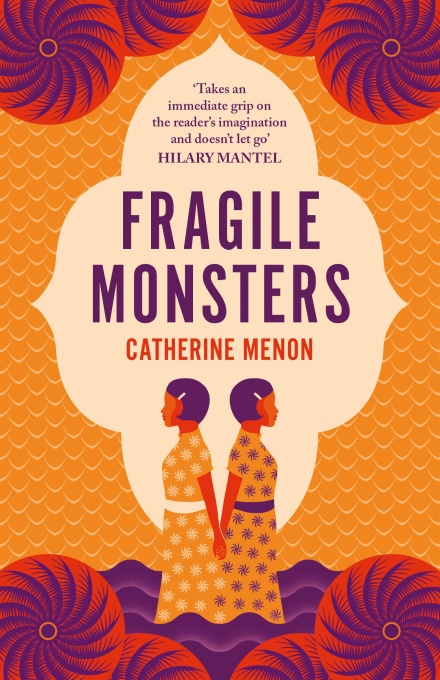 Fragile Monsters comes with many accolades. Hilary Mantel says it 'Takes an immediate grip on the reader's imagination and doesn't let go' and I would certainly agree. This is a stunning work of fiction whose ideas and characters really stay with you.
Durga grew up in Malaysia but left to study mathematics in Canada and though she has returned to Kuala Lumpur to teach maths at the university, living closer to her grandmother, Durga's identity straddles these two places and cultures – forcing mathematics and logic upon the power of storytelling and suggestion (though by no means are these things so easily polarised in the novel).
Durga begins the book hoping to unravel the truth behind her grandmother, Mary's life; what she finds is a fresh take on her own identity. Swapping between Durga's first person present narrative and her grandmother's third, we move backwards and forwards in time over the course of one extended weekend, encountering multiple sets of divided things.
The reason the novel is so compelling is that both narratives have mysteries the reader wants to solve: something happened to Durga as a child that resulted in a friend's death and we're not sure if Durga is complicit; her grandmother had a friend too, a friend who was also a love rival.
Mary's been trying to start again, to rewrite history and hope it turns out better this time. But the problem with history is that it gets its own way, somehow or other.

p72
It goes beyond this, of course. What happened in the war, during the occupation? What is the real story of Durga's mother? How is one family line wealthy and another subjugated to servant status? One girl's pregnancy a cause to rejoice, another's a reason to feel shame? One character's silence accepted and another's shut away? (The novel is particularly interested in characters who struggle to speak and who must find different ways to voice their stories, different ways to communicate.)
These repetitions, mirrorings of situations and relationships, keep on flickering in and out of focus throughout a novel whose title aptly defines us all. We hope, by the end of the novel, that unearthing the truth will end some of these cycles.
I'm not going to say more that might spoil the plot. I am, however, going to say that the elegance of this book is impressive. Catherine Menon is a writer who really knows her craft and having read her short stories, it's a delight to find her novel even more entrancing than I'd imagined and I'm very lucky to have got my hands on a proof – I've already wanted to share passages with my students. (Do see my interview with Catherine after the publication of her short story collection here.)
I feel as if I know these characters and walk with them as they step onto the floodplains where swamp and jungle, house and wilderness, past and present meet. It's an exciting, beautiful, generous and complex read and I will end the review not only by encouraging you to preorder the book, but with a short quotation which speaks to the heart of the what Fragile Monsters attempts to explore:
'Oh, Durga,' she [Ammuma, Durga's grandmother] says. 'All this mathematics, isn't it? Always wanting for it to be right, instead of true.'

p208
I've got a little behind with my reviews again, but I will be posting about How Beautiful We Were by Imbolo Mbue very soon, followed by Tender is the Flesh by Agustina Bazterrica.