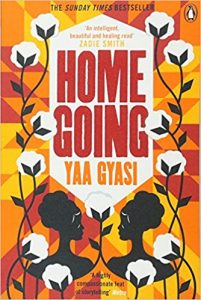 Set across the Gold Coast of Africa and several states in America, Homegoing tells the story of one family as the descendants of two sisters, Effia and Esi, travel back and forth from Ghana. We are given multiple different views of the slave trade and of how heritage, tribe and skin colour affect the choices people make.
It is very easy to fall under the spell of this novel. The storytelling is so compelling and elements of the magical real, that bring ancestral memory to life, weave delightful patterns across so many different lives.
The blurb says it is the story of America, but I think it is both less and more than that. The history of slaves and black people in America is brilliantly brought to life, but so too are the lives of the half of the family who weren't sold into slavery but who had to live with the legacy of its impact on Ghana and their own sense of moral identity. This makes the novel rich, complex and thoroughly international. America isn't the only foreign country that forms part of the story. Red-faced, sweaty English slave traders who marry local girls are there too, muddling their stories into the gene pool, bringing riches and influence to opposing local tribes.
I won't give away the end, but its testament to my investment in the characters that I longed for a certain object to be found, to make the links between the two branches of the family manifest. Keeping possible avenues open to the reader whilst avoiding sentimentality is something Yaa Gyasi does exceedingly well. It doesn't feel like a first novel because the marriage of West African beliefs and storytelling with the Christian beliefs and storytelling is deft and self-aware. So much hums beneath the surface of this family's gripping journey. This is a brilliantly written novel that will appeal to many. I can't wait to read what Yaa Gyasi writes next.
Next week I'll be reviewing American Innovations by Rivka Galchen.